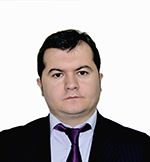 Doc.Dr. Ramadan Çipuri. BA in Journalism, Istanbul University, Turkey; Docent in Journalism, University of Tirana; PhD in Journalism, University of Tirana.
Dr. Çipuri was engaged in the university life since 2008, initially at Epoka University, Tirana, Albania, and then, from September 2011-2012 he has been member of academic staff, as well as Chair of the Department of Communication Sciences, at HEI Hëna e Plotë Bedër.
Dr. Çipuri has obtained the scientific degree of "Doctor of Science in Journalism and Communication" with the study entitled "Self-censorship of the Albanian journalists in newsrooms".
During these years, he has been the author and co-author of several publications dealing with this field of study.
Secretary of Department
Romelda Qose: Finished her "Bachelor" studies in the Department of Journalism and Communication, Faculty of History and Philology, University of Tirana. In 2015, she graduated from the second cycle of studies, Master of Science in Comunication Sciences with a concentration in Public Relations, Department of Communication Scinces, Faculty of Human Sciences, "Hëna e Plotë" ( Bedër) University.