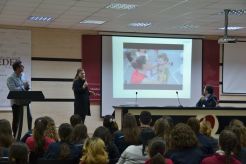 The design, planning and managing publicity campaigns was the presentation topic of Landmark Communications with students of the Department of Communication.
In the fourth seminar cycle "Marcom Seminars", Odeta Male (Managing Director) and George Spiliopoulos (Creative Director) held an open lecture about the steps that must be taken in order to create publicity spots and events.
This lecture was a combination between theory and practice where guests explained their experiences in the organization of events, especially the campaign of Albtelecom and Eagle Mobile ''Puthe''.
Mr. Male said that working in an advertising agency requires a lot of effort and passion. The uniqueness of this work according to her is that each campaign or event requires a different engagement and that is the interesting part.
The lecture then switched to a interactive conversation where students asked in detail about the duration of the implementation of a publicity spot, steps to be followed and specific questions related to certain events.