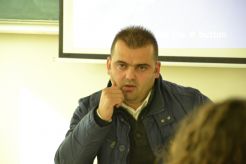 Edi Lesi, former editor of "Standard" and "Koha Jonë" journals, also former Director of Information in Albanian Television (TVSH), was part of an open lecture in the Department of Communication Sciences.
Mr.Lesi, currently media and communication consultant of the Democratic Party President, Basha esteemed journalist profession as among the most beautiful ones for those who are devoted. According to him, one of the most important point that helps journalists to their career is objectivity and commitment to the profession.
Another topic where Mr.Lesi focused was advising political leaders. According to him, advisers are the "eyes and ears" of the politician.
At the end of the lecture, Mr.Lesi answered student's questions.