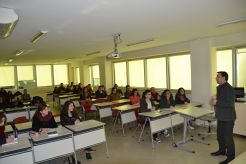 Administrator of one of the biggest Albanian portals Albeu.com, Mr.Idaver Sherifi discussed with students of the Department of Communication Sciences on new media and how they are functioning in the Albanian media market.
Invited to an open lecture, Mr.Sherifi appraised new media as the fastest way which audiences are using to obtain information on the actuality. "Space and the opportunities that internet offers have changed and significantly affected journalism. Beyond the problems encountered in reporting, it has even more advantages", said among others.
"Life in virtual conditions has also affected on people connections with each other. A social problems appears to the connections between individuals", added Mr.Sherifi.
At the end of the lecture, students showed interest in the advertising market of this sector, as well as the ways of reporting in online media.