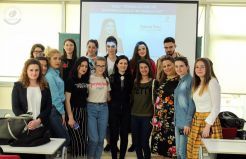 The founder and manager of the portal Mundësi.al, Mrs. Edona Daci was invited in the framework of the MarCom seminar cycle. At the meeting with students of Communication Sciences, Daci spoke about the role of technology in disseminating information by taking the opportunity.al portal as an example. During the seminar, "Bedër" students became acquainted with some of the latest data and curiosity about disseminating information on social networks.
Further, Mrs. Dac encouraged students to be searchable and open to new study practices in their field, referring to her experience, challenges in the first steps of entrepreneurship, and opportunities to be utilized. Founder of Opportunity.al presented the students with the novelties that will bring the portal portal and emphasized the activation of young people in seeking opportunities and using as many resources as possible to discover their professional skills.
At the end of the seminar, the students of Communication Sciences had the opportunity to ask about new methods of disseminating information and how to approach the labor market.