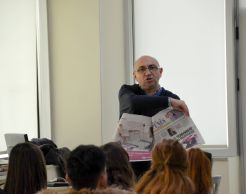 As a collaboration between the Department of Communication Sciences at the University " Hëna e Plotë" Bedër and Risi Albania project, for two days, during December 6-7, it was organized a professional training aiming to equip the future journalists with the specific skills of effective and attractive reporting methods on the labour market in Albania.
The training was organized in four modules that addressed topics closely related to today's reality of the need of the public and audience for more interesting and valuable information on labour market, the need of media to generate audience and revenue and the need of business to obtaing skilled and appropriate workforce.
The training provided by Dr. Pandeli Pani, professor at several European universities, was interesting for the participating students as it combined very well the theoretical information on the reporting methods, the benefit of the media, audience and business, successful Western and regional models as well as actual experiences from the Albanian market, with the practical work of students through group exercises associated with finding a topic, select the method (genre) of handling it, finding the resources to deepen the topic, in addition to the analysis of various aspects of reporting.
This training represents only the beginning of a continuous project, which will continue with various practices for the students in this regard as well as with the inclusion of these modules in the department curriculla.