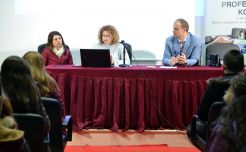 In the premises of Hwna e Plotw Beder University was organized the training of students of Communication Sciences Department on ways of reporting on social issues. The training was organized as a collaboration of the Department of Communication Sciences with Infinite + Association.
Trainers were Dr. Çipuri Ramadan, head of the department of Communication Sciences, Ms. Karolina Risto, director of information on INTV, and Erida Gjermeni, editor of INTV.
Bringing the experiences and challenges of journalists in the newsroom, Ms.Risto Ms.Gjermeni stressed about the dilemmas of journalist that report on social issues are almost daily, as they are put in front of various pressures,such as public interest, anonymity, copyright , children in need, persons with disabilities, etc..
On the other hand, Dr.Çipuri analyzed the reasons for the journalists in ethical dilemmas, as well as in the management model upon which the Albanian media is functioning. According to him, this is a management model that promotes ethical problems the big problems in the Albanian media.
Of interest was the application of practical reporting about this issues by the students themself.