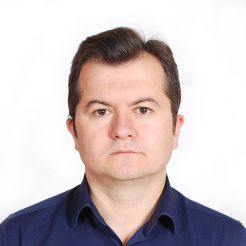 Dr. Erlis Çela: Born in the city of Elbasan. Pre-university education was conducted in Pogradec and Elbasan. He then completed university and master studies in the field of journalism at the Faculty of Communication, Marmara University in Istanbul, Turkey. Erlis Çela holds the "Doctor of Science" degree in Communication Sciences.
Dr. Çela has a long experience in the field of communication and media, initially as a journalist and then as an expert in Public Relations and Advertising. He engaged in university life in 2011 as a lecturer in communication sciences. From September 2012 he was part of the academic staff at the Department of Communication Sciences at Bedër University College. Dr. Çela leads the Department of Communication Sciences from the beginning of the academic year 2017-2018.
Dr. Çela has received the scientific degree "Doctor of Science" with a study titled "Role of Social Media in the Development of Traditional Media in Albania".
During these years he has been author and co-author of several scientific publications in the field of media and communication.