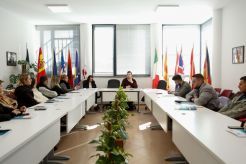 Through a collaboration between the Department of Justice and Communication Sciences at Bedër University College, an open discussion was held on the topic: "Management of cases of use of hate speech with a religious background in the form of denigration, stereotyping and stigmatization."
The presentation of this project and the development of the discussion was held by Mr. Robert Gajda, representative of the Commissioner for Protection from Discrimination.
The purpose of this discussion with the students was to involve and raise their awareness on the issue of hate speech. There was talk of various cases which have appeared on Albanian television screens where there has been hate speech by opinion leaders and television personalities. The focus was more on hate speech with a religious background and an example was given about this phenomenon that occurs in our country.
The discussion continued with how to prevent or raise media awareness on this issue. Thus showing the importance of the media and journalists in preventing this phenomenon by not differentiating any part of society regardless of religion, ethnicity or personal choice.
In this discussion there was a lot of interaction between law students and those of communication in the liaison on how to act both legally and by the media.
At the end of the discussion Mr. Robert asked the students if they would encounter such cases where hate speech is used to contact the Commissioner for Protection against Discrimination immediately to be followed up.