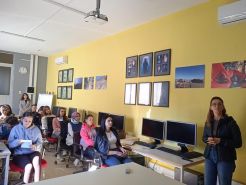 Representatives from the Faktoje.al organization conducted a training today with the students of our department.
The training held by Mrs. Viola Keta and Mr. Endi Kalemaj, was divided into two modules, where the first module consisted of a general explanation of fake news and disinformation. Ms. Viola accompanied the explanation of these phenomena with concrete cases that occur in Albania.
She also showed students some of the tools to check photos and videos to see how real they are.
The second module consisted of the work and practice followed by Faktoje.al from the morning meeting where they see the statements or promises and up to the verification in the field which is the last fact for the verification of a case.
One of the difficulties they encountered was meeting the person making the statement.
"We ask the person himself, even though it's not an easy thing," she said.
Another point that Ms. Viola also mentioned the strongest weapon of a journalist, the law on the right to information.
Mr Andy then explained from a legal perspective how the courts work weighing how secret information is and whether it should be accessed or not.
"As journalists, you never have an obligation to provide the means of identification, that is, the ID," he added. Letting you students understand that they as future journalists have the full right to seek information.