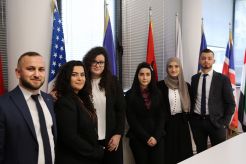 The Philip C. Jessup International Law Moot Court Competition, under the auspices of ILSA, brings together International Law students from all over the globe. Jessup is the world's largest international competition for law students, with participants from more than 800 universities worldwide.
Law students from University College Bedër will represent Albania in this edition, which will take place online between March 15 - April 18. The group consists of Razije Hela, Elvis Lika, Inisa Sota, Erkan Hasanaj and Aisha Morina. Meanwhile their coaches are Daniel Klingenberg and Dr. Gentjan Skara.
These days the team of "Bedër" is holding friendly confrontations with teams from different countries. During the confrontations that are preceding the final competition, students present their arguments regarding issues and causes assigned to the jury, from which they receive evaluations and suggestions.