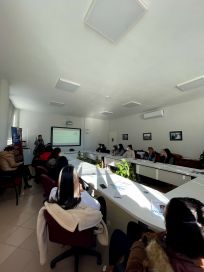 The Department of Communication Sciences at Bedër University College has organized today a workshop on "How to address misinformation about vaccination against COVID-19". A workshop presented by the Association of Health Journalists to journalism students in order to show care in reporting pandemics or similar situations.
Invited to this workshop were Mrs. Sonila Mlloja, journalist of RTSH and Mrs. Alma Demiraj journalist at Top-Channel.
This workshop started with the importance of reporting on the current situation we are in, where information about COVID-19 has become very important in everyone's life. Mrs. Sonila explained about the phenomenon called "infodemi". By placing themselves in the role of society who are confused before the excessive dominance of information.
She further told students about the spread of misinformation, misinformation and false news which during the pandemic period became a "trend". They also talked about the consequences that this information brings to society in pandemic situations.
"We as journalists will report on the pandemic, because people need information, but do not mention cases and victims in your reports," said Ms. Sonila. She also linked this to the way it is reported in these cases, showing caution with hyperbole expressions and simplifying the news in order to be understood by the general public.
Mrs. Demiraj gave a great importance to the confrontation between myths and facts, concretizing it with an example from her reports. In the COVID-19 situation myths have been present regarding vaccination and a part of society has believed them. This has also happened due to the fact that journalists have not spoken with facts about a myth spread by people. The case of the most discussed myth in Albania is "Vaccine causes infertility". Facing this myth with the facts of concrete cases then the public will also think differently.
At the end the workshop closed with a message to students on reporting and presenting facts in pandemic situations taking into account the consequences that may remain in a society.