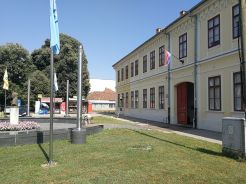 University College Bedër is now an official partner with the Lavoslav Ružička College of Applied Sciences in Vukovar (VEVU), Croatia, under the Erasmus + Staff and Student Mobility Program in the field of Law. As part of Bedër's cooperation with VEVU in the Erasmus + project, calls for applications for staff and students for the period "Summer 2021" and "Fall 2021" will soon be opened.
The quotes for these calls are as follows:
Activity 1 - STT Mobility - Non-teaching week - 1 quota - Non-Teaching Staff Traineeship - June 2021 (5 days a week) (will be considered depending on the situation with the pandemic), otherwise it will be postponed to Fall 2021.
Activity 2 - STA - Staff Mobility for Teaching - 1 quota - Internal Calls will open in early May 2021, to be realized in September 2021.
Activity 3 - SMP- Student Mobility for Traineeships - 1 quota - Summer 2021 - Min. 2 months
Activity 4 - SMS- Student Mobility for Study - 2 quotas - Fall 2021 - One semester
For more information about the College and the Erasmus + program, please find the links below:
PARTNERSHIPS:
http://www.vevu.hr/?podatak_id=37&g=12&i=161&panel=1#panel-1
VEVU Erasmus+:
http://www.vevu.hr/?g=12&i=161
INFORMATION PACKAGE
http://www.vevu.hr/?podatak_id=6&g=12&i=161&j=204&panel=1#panel-1