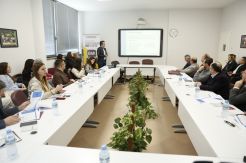 Conference titled "Development of a Scale for EMI Level Measurement (Media and Information Education) and Testing for Students in the 18-24 Year Age Group" was held today. This is the closing event of the project of the same name. During the conference, the findings of the project were presented in two parts that correspond to the two main project objectives.

The first part of the project relates to building a ladder for EMI level measurement (Media and Information Education), looking at and analyzing various previous theoretical and methodological models, as well as those applied to this project as well as in this discipline of Education over the Median. While the second part of the project is about testing this measuring scale in students in Albanian universities.

Media and Information education was measured in 11 dimensions such as using; thinking; verification;analysis; creation; spending; connection; informing; protecting; choice; participation. According to the project findings, the level of education on media and information, measured through a scale of 1-5, ranges from the defense dimension which is the lowest level by 3.22, to the analysis dimension, which results in the highest level , 3.94

Over 270 students from Bedra University College, University of Tirana and Alexander Xhuvani University in Elbasan participated in the scale testing.

The whole activity was conceived in the form of a conference-workshop, where after presenting the results, there were questions and discussions. During the discussions, today's need for EMI and especially the need to measure, not only among students but also at other social levels, and the innovations the project brings in our country were highlighted.

The study was carried out by members of the Department of Communication Sciences at Bedër University College Dr. Erlis Çela, MSc. Alban Tufa and MSc. Melsena Danglli.

This project is financially supported by the Public Relations Office of the US Embassy in Tirana, within the framework of the Project "Development of Media and Information Education in Albanian Universities".