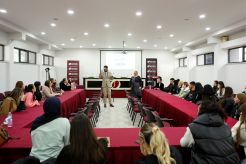 The Department of Communication Sciences organized the seminar on "Communication that brings development". The guest of this event was Fation Dragoshi, manager of the project "Ability to work", a project of the Swiss Agency for Development and Cooperation SDC, SwissContact.
Mr. Dragoshi shared with the students his 15 years of national and international experience in leading positions related to the labor market, economic development and employment.
This seminar discussed the importance of vocational education and how we can promote this education. Many reasons were mentioned why this education is not preferred by young people in our country, where family influence was above all. Despite the difficulties to change the mentality of Albanians in relation to this issue, Fationi stressed that good communication can bring many positive results in changing the mentality of the society where we are.
"I found it very difficult to choose the person who would deal with the communication of the project," he said, emphasizing the importance of communication in the development and impact of the audience to achieve the goal of the organization.
The meeting was quite interactive as the students discussed with each other and engaged with questions and answers. Arguments and counter-arguments among students were constantly present, but at one point it was agreed that only through communication can the development and integrity of a society be achieved.