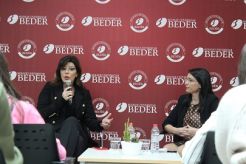 In the cycle of discussions "Student and Profession", first invited for this new academic year, in the Department of Communication Sciences at Bedër University College, was the well-known journalist Sonila Meço.
She spoke with students about "doing journalism in difficult times". In the moderated talk by the lecturer of the Department of Communication Sciences, Dr. Valmora Gogo, discussed the role of media in society, the relationship of media and journalists with power, the difficulties of journalist face in the workplace, the economic model of media, the spaces created by new media, and the role that audiences have in the wellbeing of the media.
"Nowadays journalism is difficult because it is stigmatized. The main problem remains the relationship with the power, and the economic model of the media," said Meço.
She further stated that: "There is a relativization of journalists, they are considered bad, and this has led to a crisis of confidence in journalism, so the public no longer trusts journalists. Today journalism is in cholera times. In this logic the journalist must overcome fear, and use the word as the only tool he possesses. "
The discussion focused on the television journalism, the lines that are tangible and intangible, as well as the importance of character in the journalistic profession.
Further, the discussion focused on the role that online media has today, how it affects public opinion and how this space can be used by journalists and the audience themselves. She said online media creates new opportunities for journalists, avoids censorship, and helps to share information quickly.
She said: "Online media is a space where everyone can be a reporter, everyone can talk, report and give their opinion. This space should be used on all its platforms, especially by journalists, ".
The discussion also touched upon other issues and other problems to journalism nowadays such as disinformation, censorship, audiences and media agendas.
During the meeting the students had the opportunity to ask questions for discussion.
In the end, Sonila Mecho congratulated the students for the questions they asked and congratulated them, facing the difficult and beautiful profession of journalism.
Sonila Meço is a journalist and the host of "Tempora" on "RTV Ora". She is a journalist with a long experience in Top Channel, TV Klan, Vision + and Agon Channel.