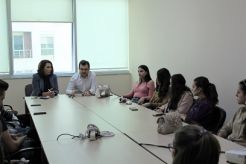 The Department of Communication Sciences at Beder University College held a meeting with students who last summer conducted professional internships at media, public relations and marketing agencies.
Head of Department, Dr. Erlis Cela emphasized the importance of meeting, in receiving feedback after the practice, to review if necessary the way it works. He speak about the importance of professional practice for studying studies in applying the theories taken in lectures and as the first step in building a career.
During the meeting, the students expressed their impressions and recounted the experiences they had during the internship. They told about their work processes, difficulties and their solution in the newsroom, in public relations offices and marketing agencies. They indicated that upon graduation, some of them even managed to work part-time near the places where they conducted internships.
Some of the students evaluated the internship carried during the year on the objective.al, an website for students, managed by the Department of Communication Sciences.
The students expressed their desire to be part of the professional practice again during different periods of the year.
Some of the lecturers of the Department emphasized the importance of professional practices to contacts with the market.