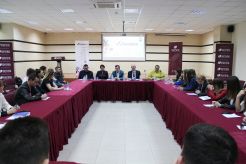 Department of Communication Sciences at "Bedër" University College, held the Fifth Student Summit in Communication Sciences. The opening was made by the Chairman of the Confederation, Head of the Department of Communication Sciences at Bedër University College Dr. Erlis Çela, who greeted and congratulated the participants for the seriousness and agility shown. He further explained what researchers think about new trends in journalism and communication in general as well as the importance of scientific research in this area.
While in his greeting speech, Dean of the Faculty of Human Sciences at KUB, Prof. Assoc. Dr. Rahim Ombashi, emphasized the importance of having a profession in human life. Among other things, he described the profession as a key element in our lives. After him, the lecturers of the Department Dr. Edlira Mali and Dr. Ardita Reçi.
Subsequently, in four parallel sessions were referred 33 students from four universities: University College "Bedër", University of Tirana, University "Aleksandër Moisiu" Durrës and Vlora University. They referred to different topics from Journalism, Organizational Communication, New Media, Marriage and Public Relations.
At the conclusion of the Conference, the referrals were provided with participation certificates.
At the end the commission evaluated as the best works the topics:
Elion Kollçkaut, "Electoral Campaigns and MPs, Kosovo Case", a master student at the University of Tirana.
"Chatbot - New Digital Communication Trend with the Audience: The Perspective of Using From Albanian Businesses" by Kristi Mukollari, a third year student of Communication Sciences at Bedër University College.