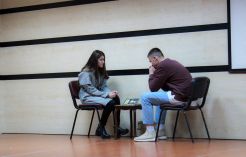 Members of the Book Club at "Bedër" University College, set today the drama titled "You Can".
With screenplay and directorship of club president Jona Kaso, students of the early years, conveyed emotions to the public.
At the center of the drama subject was the book and other factors that affect the life of a young man found alone in a world full of contempt. The message that followed was to make it really difficult, but not impossible.
This theatrical performance took place within the framework of the book collection campaign and their donation to young people in the names.