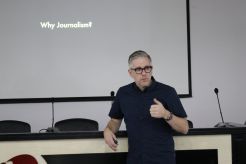 The Department of Communication Sciences at the University College "Bedër" in cooperation with the Albanian Center for Quality Journalism (ACQJ), organized an open seminar on "Visual storytelling and filmography".
Invited to the seminar was American photographer and producer Nathaniel Hansen, who spoke to students about the importance of visuals in the field of communication and beyond. Explaining how a story can be told through several or a single photo, Hansen emphasized the role that photos and videos play in the development of journalism, and the latter in the development of democracies.
He shared with the students his perspective and experience, as well as some of his professional shots and history, which was told through them. Further, Mr. Hansen presented some of the photographs taken by American photographers over the years, which have influenced public opinion and changed the mindset of society. The stories that were told through the photos were related to poverty, children and the period between the two World Wars. Analyzing the communicative power of these photos, Mr. Hansen addressed the technical aspects of perspective, established forms, granulation as well as the potential that these photographs have to disrupt politics and social conditions.
Mr. Hansen asked the students present why they had chosen to study Journalism and Communication. "The stories we choose to tell will shape our future," he said, following their varied responses.
At the end of the discussion, the students asked questions about the application of the ethics of photojournalists, the ways in which they can tell stories through the shooting of photos and about the professional experiences of Mr. Hansen.
Nathaniel Hansen is an Emmy-nominated producer and Peabody Award winner. He is also a director, filmmaker, editor and trainer. His documentaries and commercial work have taken him worldwide, directing documentary film projects and on various brands in Japan, China, India, Venezuela, Brazil, South Africa, England, Sweden, Germany, Albania, Zealand and New and almost in all 50 US states.