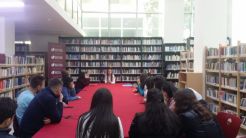 The Book Club at "Bedër" University College, held today the next meeting. This discussion took place over the novel "Where are you?" By writer Flutura Açka, under the presentation of student Melsena Danglli. The subject and the symbolism were explained in detail by the presenter.
The novel focuses on the life and destiny of people in the dissertation. The writer's finesse irozion system and the absurdities that he created the system against the individual. Further, the debate expanded in some other issues regarding the fate of the individual but also the writer in totalitarian systems, making an analogy with George Orwell's "1984" novel.
He further discussed the method of socialist realism, how the form dictates the content, and how content influences the masses.
The discussion closed with the role and responsibility of the writer towards his readers.