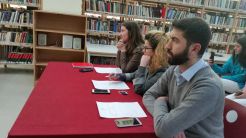 The KUB Debate Club held yesterday the first stage of the first phase, entitled "Social media help us understand the great world events".
The pro-theme group, consisting of students Samanta Hysa, Sabina Kurtaj and Sidorela Alla (absent), won versus Matjan Kurti, Genti Grabova and Gertiola Agolli.
The students brought arguments and counterarguments, creating a good debate.
This was the 8th group going to the next stage