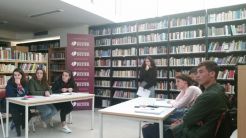 The Debate Club at "Bedër" University College held yesterday the first phase debate of the second phase.
The topic of this talk was: "The media has contributed to lowering the level of public debate", where pro was the first year group of communication sciences composed of Esmeralda Pashollari, Eldo Nexha and Afrim Pisha, while in approach against students from the second year in Communication Sciences: Melsena Danglli, Lirije Myftarago and Lushe Përgjegji.
After the arguments and counter-arguments presented by the respective groups and the points collected from the jury's assessment, the groups came out with equal points.
So it was decided to develop a second confrontation between the two groups.