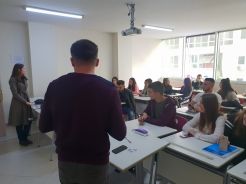 The Debate Club launched today the first round of debates on this academic year. The students were introduced to the teams they will face, the themes and the approaches to or against the themes.
The first issue on the topic: State Education vs. Private Education is between Ermal Goroveci, Erald Kaso and Shkëlqim Çota, who will defend state education and first year students Andi Cara, Afrim Pisha, Eldo Nexho who will defend private education .
In the first phase, there are 17 groups of three members each, bringing us 8 appearances and a team passing directly to the next stage, as it remains without an opponent.
The first phase of the debates will begin next week, leaving them time for preparation