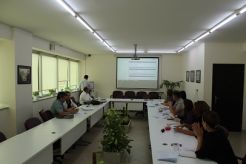 The Department of Communication Sciences, like every new academic year, organized a workshop on "Updating syllabus".
During the workshop the subjects of the previous academic year were discussed, the need to review the assessment items, and the efficiency of the methods used last year.
Head of Department, Dr. Erlis Çela emphasized the importance of updating syllabuses for the respective subjects, while respecting the deadlines. He also emphasized the importance of presenting syllabuses and assessment items to students at the beginning of the academic year.
During the workshop similar topics were discussed in similar subjects in order to avoid collision and make these topics understandable to students.
Another important issue that was discussed was the compulsory and supporting literature on the respective subjects. The lecturers emphasized the importance of updating the literature with new Albanian language publications in the field of communication and journalism in order to keep students within the dynamics of today's communication and technology.
The Worshkop closed with suggestions from lecturers on how syllabus changes in their subjects each academic year. In the end they exchanged experiences and methods that have proved very effective over the years.