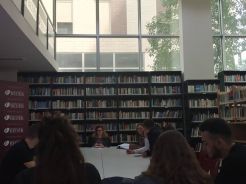 The novel "Drowning" was the book that was presented at the next meeting of the Book Club at Bedër University College. The book was presented by Donisa Perseku and encouraged discussion among members of the club.
The discussion widened also in the aspects and themes of the novel, as well as in all the literature of Dritero Agolli, the fate and the writer's possibilities in dictatorship.
It was also discussed about the aesthetics that prevailed by the protection and dictation of the official text of the article.
It was also discussed the symbolism that could present a novel by his characters, naming, conflict and description.